The 2020 National Merit Scholarship Competition generally represented a good year for Houston-area high school juniors. There were 386 area students who scored in the top 1% on the PSAT to earn the celebrated "Semifinalist" designation. Versus 365 Semifinalists in the previous year, there were 5% more brilliant students in Houston this go around.
This article is for a previous year's announcement. Click here for the announcement regarding the 2020-2021 National Merit Scholarship Competition.
A National Merit Semifinalist (NMSF) is a high school student who scored in the top 1% of Texans on the PSAT their junior year (October of 2018 for this year's winners). The number and percentage of awardees is one of the only statistics that is cross-comparable between private and public high schools.
With approximately 16% of their senior class qualifying as a Semifinalists, St. John's School in River Oaks maintained its reputation as the place where smart kids like to go. However, while 27 winners is still impressive and 16x the national average, this number represents a big drop from last year's 39 winners when nearly a quarter of that class was in the top 1%.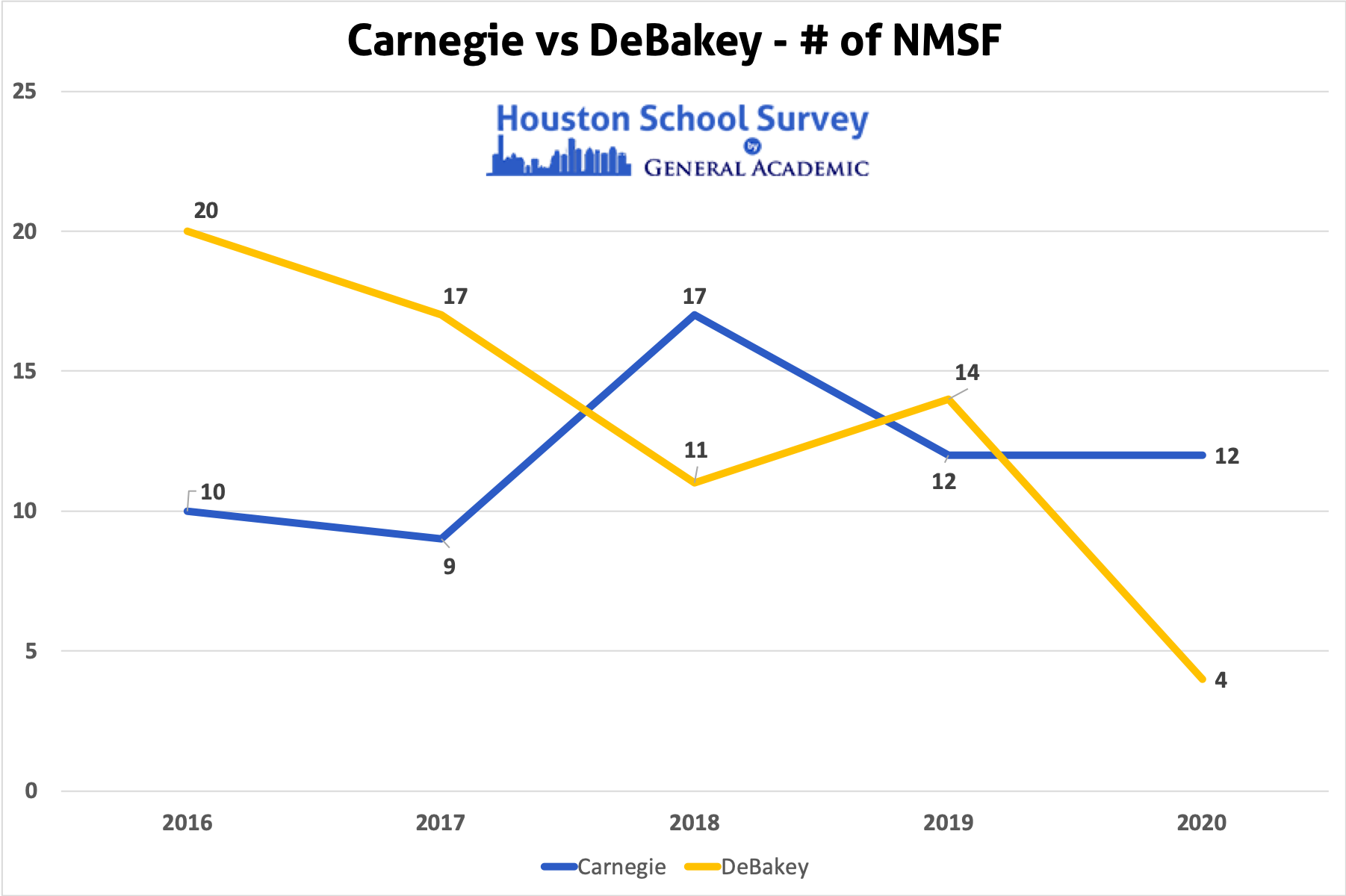 Houston ISD's Carnegie Vanguard High School tied with the storied Kinkaid School for second place with approximately 9% of their seniors scoring in the top 1% on the PSAT.
While Carnegie maintained a strong showing, cross-town rival DeBakey had a rather bad year with just 4 Semifinalists or approximately 2% of the senior class. In fact, DeBakey has been on a downward trend for at least the last five years when they had 20 Semifinalists in the 2016 competition.
With 5 Semifinalists or approximately 4% of their senior class, Awty International School overtook Strake Jesuit (2%) and John Cooper (3%) to join St. John's and Kinkaid as the top 3 Houston private schools.
The suburban high schools of Woodlands College Park (4%), Clements-Sugarland (4%), Dulles-Sugarland (3%), and Glenda Dawson-Pearland (3%) retained their image as public high schools with superior academic programs.
Top College Majors for Smart Students
The plurality of Houston's top students want to be engineers, particularly aerospace and chemical engineers.
The humanities are clearly not favored. History, a popular degree for future lawyers, was the intended major for just 7% of Semifinalists. Even less popular was Social Science at just 2% and includes Political Science, which is favored by future political operatives.
However, 21% of semifinalists were either undecided or had absolutely no idea; therefore, society's imminent need of more lawyers and politicians might not be so dire after all!
(A student's intended major is designated by the three digit code in front of their name in the table below. Click here for the full description of these college majors.)
Engineering – 20% of Semifinalists
Biosciences – 12%
Computer Science – 12%
Health Professions – 11%
Business Management – 7%
History – 7%
Engineering Technologies – 3%
Social Science – 2%
Visual and Performing Arts – 1%
Religion – 0%
About the National Merit Scholarship Competition
Approximately 1.5 million students across more than 20,000 US high schools participate in the National Merit Scholarship competition beginning the fall of their junior year. Juniors compete by sitting for what is essentially an abbreviated, practice SAT (PSAT).
Semi-Finalists, the most important designation, represent the top 1% of the approximate 1.5 million test-takers. National Merit Semi-Finalists generally qualify for scholarships that can range from full tuition at certain public colleges to $5,000 and $10,000 scholarships at prestigious, private universities.
Approximately 15,000 out of 16,000 semi-finalists then go on to be designated finalists. Texas colleges offering full-rides include the University of Houston, Baylor, UT Arlington, UT Dallas, UT Tyler, UNT Dallas, Abilene Christian, and Lubbock Christian.
​Lastly, a little over half of the finalists are designed "Merit-Scholarship" recipients, meaning that they get the fancy title and one-time $2,500 cash payment. Scholarship winners are selected "based on their abilities, skills, and accomplishments."
These NMSF figures are particularly attractive, versus SAT and ACT scores, because they're publicly available from the National Merit Scholarship Corporation; conversely, schools do not have to disclose the SAT and ACT scores of their students. And when private schools do disclose SAT/ACT scores, it's often presented in a way that's difficult to read and/or compare.
Top Houston-Area Schools by National Merit Semifinalists as Percent of Class
This chart looks at the greater Houston-area schools (plus TAMS) which had over 2% of their senior class qualify as Semifinalists. 2% is double the national average of 1%. We included the Texas Academy of Math and Science (TAMS) in Denton, because any Texas student can apply to attend to this state-wide public boarding school, and because those kids are really smart.
Key Takeaways
TAMS, a statewide public boarding school, has the smartest students in Texas.
St. John's maintains its reputation for graduating top scoring seniors, but its lead has declined over the last 5 years.
Carnegie Vanguard has established itself as the top public school in the area.
Sugarland is The Houston Suburb for brainiacs, but Pearland, Katy, The Woodlands, and League City aren't far behind.
Charter and early college schools like Harmony, Yes Prep, and Clear Horizons are on the rise.
Names of National Merit Semifinalists
This list includes Houston, Bellaire, Humble, Katy, Kingwood, League City, Pasadena, Pearland, Sugarland, and The Woodlands. Click here for the original press release from National Merit Scholarship Corporation, which contains the names of all winners in the state of Texas.
Note that the three digit number before a student's name is their self-selected "College Major Career Code." 999 means undecided; click here to download the explanation to all codes.
| wdt_ID | City | School | Student |
| --- | --- | --- | --- |
| 1 | Houston | Awty | 000 Alawami, Mohammed A. |
| 2 | Houston | Awty | 161  Sewani, Maham |
| 3 | Houston | Awty | 162  Tu, Ashlyn |
| 4 | Houston | Awty | 894 Xu, Doris J. |
| 5 | Houston | Awty | 303 Young, Lawrence Z. |
| 6 | Houston | Bellaire | 185 Anand, Kaarthik |
| 7 | Houston | Bellaire | 843 Benner, Carson M. |
| 8 | Houston | Bellaire | 843 Chen, Chu |
| 9 | Houston | Bellaire | 900 Ding, Lucy M. |
| 10 | Houston | Bellaire | 302 Girardet, Thomas P. |
| | City | School | Student |
Ask a Question or Make a Comment
[dwqa-list-questions category="national-merit"]